Online Bengali Magazine in Kolkata, WB
Khobor Dobor is an online bengali magazine in Kolkata, West Bengal. Our latest bengali magazine online website is a different kind that can refresh your mind. Here you will find entertainment, lifestyle, occupation, health, astrology, ecology, numerology, spiritual topics, film gossip, film reviews, web series reviews, stories, novels, numerology tips, vastu tips & remedies, astrology remedies, stories from mythology, unknown facts,etc.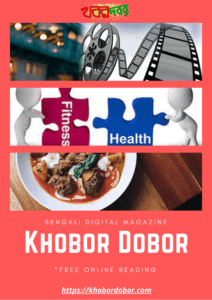 Best Bengali Digital Magazine in Kolkata
We are the best online bengali magazine in Kolkata, as well as news portal sites in Kolkata, West Bengal. Keeping you away from the various political discussions and the various incidents that take place in a cruel and ruthless manner that give rise to pain and frustration in your mind will always keep you pure and pure. This magazine will go with entertainment. So in this case also you are our hope. If you love to watch movies or web series. Then you can share your point of view through comments. Write an overall review at your news site.
Why Read Khobor Dobor?
It will help you from the drawing room to the bed room to the affairs of the Puja Room. Once you open your eyes at the beginning of the day you will get freshness and at the end of the day you will get refreshment. Khobor Dobor will convey important issues from Ai tuki taki which will help you in various ways. Especially the worry-free mind – will give the gift of a fresh body.
We assure you that in a very short time it will become your closest friend. As you can open your mind to your loved ones, that opportunity will give you the news. You can match your own talent i.e. the qualities hidden inside you through us. You can continue to write on various topics such as various stories, novels, films, web series reviews, cooking recipes, travel stories, different types of tips, life experiences, beauty exercises at Khobor Dobor.
If you want to know more details about online bengali magazine in Kolkata, West Bengal then email us @ [email protected] or contact us.